Some people ask why we named our boat Anila.
Anila is the name of the Hindu goddess of wind.
Inside:
The Living Room*: The salon is like our living room. The table is big enough to fit six people with the help of our pull out bench of our table. The table can be cranked down to make a bed.  We have a couch on the other side of the which we can also make a bed out of.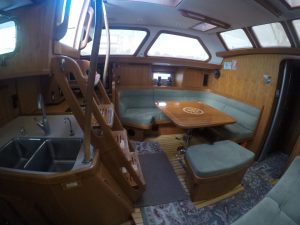 The Kitchen*:This where we do all of our cooking and baking. Kyra especially loves to bake and we have a microwave , an oven, two large sinks, a fridge, a freezer, and six big cabinets for all our non-perishable food and cooking equipment.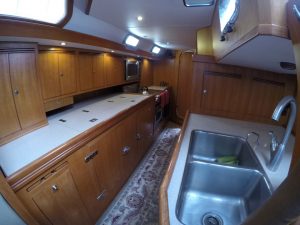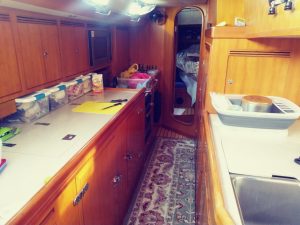 The Bathrooms*: On boats bathrooms are called heads (even if they aren't in the front) our boat has two heads and each head has three cabinets, one sink, one shower, and one toilet (of coarse). The room in the back* has a laundry machine built in.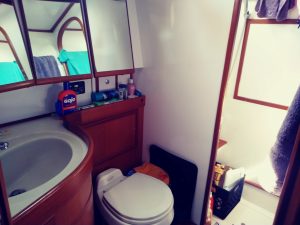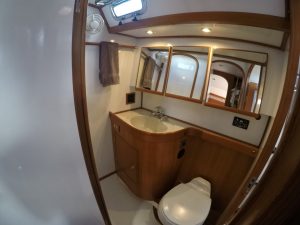 The Back* Bedroom*: The back bedroom is Dave and Satin's room they have a bathroom that connects to the bedroom. Their bed is a king bed, but doesn't cover the whole bedroom. On Satin's side there is steps leading up to her bed with lots of space to put stuff. Dave's side has a bench and less surface area.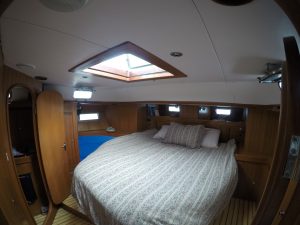 The Side* Bedroom: The side bedroom is Kyra's room. Her room is a queen sized bed in a nook. It is about 3 1/2 feet off the ground but, it isn't that hard to get into once you get into it. The room is big enough for 2 big people or 3 if you are small. It has 4 cabinets and lots of storage under the bed.
The Front* Bedroom:  The Front Bedroom is  Camille's bedroom. The king sized bed takes up most of the room but there are 4 small cabinets and 2 large cabinets. There is plenty of storage under the bed and there is a door that leads to the bathroom.
The Cockpit:
This is a sitting area in the middle of the boat. This is where you steer the boat and do your watches. We enjoy sitting out here on hot days.
The Chart Table:
The chart table is a little nook with navigating instruments and tools. There is a computer and a rotatable chair.
*Boat Vocabulary:
Living Room = Salon
Kitchen = Galley
Right = Starboard
Left = Port
Front = Forward
Back = Aft
Bedroom = Cabin
Ropes = Lines
Front Bedroom: V-berth
Side Bedroom = Side Cabin
Back Bedroom = Aft Cabin