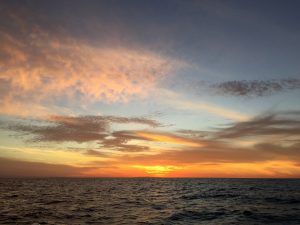 December 9 – Today was a serious test.  We woke early (2:45 am) to exit the El Cid Marina in Mazatlán shallow, narrow channel at high tide. The wind was light, and not much current flowing through the channel, unlike other times as we witnessed while there when tides changed: currents zoomed in and out so fast some boats could hardly maneuver through it. We witnessed the aftermath of a boat coming in that evening around 4 pm that had got caught by a surging wave, pushed into the rocks, broke open their port side window and was thrashed on the rocks before being able to navigate off (fortunate for them) and into the marina. Yikes!
Little did we know, the marina's put up flags (green, yellow or red).  If the red flag is flying then boats aren't supposed to depart because weather or conditions could be unfavorable or downright bad.  Had we known about this rule and flag, we wouldn't have left.  We were the talk of the marina, apparently, for not heeding the red flag.  Rebels, unbeknownst to us.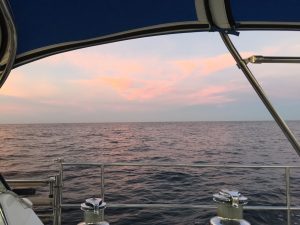 Inching out slowly, in the quiet dark, we glided past the hulking, rusty dredging machine permanently stationed there. I was trying to follow my track line from the way in because it was good:   no hitting the shallow bottom or rocks, but as I came up to the point, the swells seemed bigger in the dark and I could hear waves crashing on the nearby shore with breakwater rocks on both sides.  I started to get kicked around so steering my incoming track became a little bit trickier. Missed my line and got a little closer to the jetty than I wanted but miraculously was unscathed. Phew!  This really wasn't the scariest part.
Adrenaline running high, I kicked up the throttle and powered hard away from shore and shallows. All good! Until 15 minutes later as we weaved our way around little fishing panga boats.  One came zooming straight at us and then proceeded to block our way yelling at us and waving arms violently. Over the din of the waves, motor noise and water I couldn't hear or understand a thing. Admittedly I was a wee bit afraid: were they bandits, were they warning us of danger, were they just trying to mess with us? Unclear, until Dave spotted the small buoys holding a vertical net in the water that was running the entire length of the opening. He told me to head off and follow the panga, now paralleling the fish net. I did as instructed, but found myself heading straight for the nearby island. How long was this net anyway? Finally, they signaled I could turn out. Relieved I turned and once again powered it up and zoomed away from the rocks with breakers.   This was the scary part because I fear nets I cannot see at night.
The winds were light so we motored for several hours. We put up the mainsail for stability and a little extra push. Dave went to get some zzz's while I kept watch as the sun began to rise in the sky. Pretty morning. Everything uneventful. My nerves relaxed until at 8:30am all of a sudden the engine seemed to power slower without me adjusting the throttle. I woke Dave but he couldn't find anything strange, just less wind therefore slower speed. He took over and I went to nap.
I woke to a jerking boat. The swells were getting bigger and closer together thus making it a bit rough. Still little wind so we motored onward to maintain speed to Isla Isabela. We were shooting for 5pm but with no wind and choppy waves our progress was slower than anticipated. The swells came from the SW and kept us hobby horsing all day, much to the chagrin of the passengers. Took on lots of water over the bow, cleaning the deck thoroughly.
On my watch I sat quietly staring ahead, eyeing the anchor bobbing up and down on the bow as the waves crashed over it every time the nose went down a wave. I was a little concerned about the anchor and asked Dave if it was secured well to the chain or had a back up tie-down. He assured me it was secure and no need to worry. I still had an uneasy feeling. Inside I became obsessed with watching it because this is our new, expensive Ultra anchor that my sister and mom played a role in acquiring for us.
Around 3pm Kyra came screaming up deck to tell us her whole bedroom (side cabin) was soaked through and through. What??? Dave went to investigate. Sure enough, her hatch window had not been latched tight. We asked her and she told us it was closed. We didn't double check it. With all the waves crashing over us, the sea poured in dumping gallons of salty water all over her bed. Everything was soaked and water was dripping all down into her cabin. Dave undid everything and set the cushions up to dry, bagged the linens. I calmed her down and said, "The good news is you've got a bed to sleep in with Camille in the v-berth cabin". This was where they originally were sleeping and all her stuff is in there anyway because our crew was using the port side cabin.
Actual arrival at Isla Isabela was 6pm. Not too dark, but just enough to make it difficult to see the shore, breaking waves and rocks. The one thing we could see was NO other boats anchored, only fishing boats coming and going from the fishing launch area. We passed a giant fishing boat coming into the south anchorage. Was a little concerned going past it for fear big nets were out. Luckily they only had scoop-sized nets on each side of the boat that they were plying to scoop fish or shrimp out of the water with, no big net being dragged out the back. Phew!
With no boats anchored, my fear of fishing boats and their nets, lack of visibility, known rocky bottom that likes to "eat" anchors, and large SW swells rolling into the bay we turned tail and headed for Matanchen Bay on the mainland. As soon as we headed east the swells stopped coming on the bow. Ah! A light wind enabled us to sail but still motored so we could make it to the bay and get some rest. Little naps during the day are ok, but not the same as a full night's rest.
Pulling into Matanchen Bay at night was easy since it's so wide open and big with no rocks smack in the middle to maneuver around. We could see 3 anchor lights further in. Watching our depth and preferring a little distance from the other boats since it was dark, we anchored further out in 17 feet of water. The only problem was just after Dave dropped the anchor he looked up and saw a floating buoy (that may hold a trap). Grrr! At midnight, I was tired and just wanted to be done, but to be safe he opted to pull up the anchor and redo it. He pulled up the buoy to make sure it wasn't wrapped around our anchor chain, then tossed away the scrappy thing holding a palm frond on the end as I drove away from it. With distance from it, we dropped anchor again, this time it was good. Camille was awake helping, making it easier to get things done, tidied up and into bed quickly; even so it was 2am by the time Dave and I hit the hay. We both slept very good! I didn't emerge until 9:50 the next morning. He woke with a headache around 7:20 am and listened to the nets.