December 11 – We decided we would go into town to take the jungle river tour.  This was a real treat and an amazing adventure!  We paid a panga 800 pesos at the park entrance to take us up the estuary through the mangroves, jungle and up to the crocodile zoo (keikari).  Fortunate for us, it wasn't as hot of a day, even a little overcast but we still had the foresight to wear pants (except the stubborn Kyra who wore shorts) to ward off the biting bugs.  It worked pretty good (they still managed to attack my exposed feet)!  The flora and fauna were absolutely incredible.  Of course, the crocodiles, turtles and iguanas were a highlight, but I enjoyed the birds, flowers growing in trees and along the riverbank, the varied trees and their canopy cover, as well as the smells.  In the mangroves, closer to the sea, the water was very brackish, salty and stinky smelling, but as we snaked up the river the water actually became clear, I could smell the sweet, floral smell of a white flower, the dampness in the trees because it had rained in the jungle the night before and the crocodile pee at the zoo which was quite strong.
Just at the entrance to the zoo, there's a natural spring that feeds the river.  It was gated off and supposedly they allow you to swim in it (for more money, naturally) but we opted not to since our first view was of a giant, orange iguana who was perched in a branch high above the pool fell into the water and swam through the pool to the other side.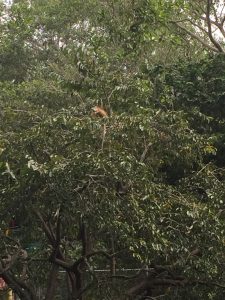 The zoo had huge, lazy crocodiles in cages and a separate room with babies.  The babies were inside a house with 3 concrete pool-pens with about 3-4 inches of water.  They were pig-piled together, and so numerous, I didn't know how they managed.  Stinky too!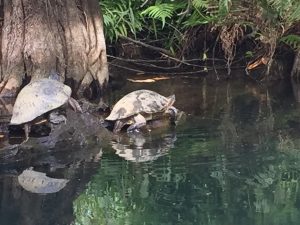 At the end of the tour, we walked back through the tiny town with all the vendors hawking "pan de platano" – banana bread.  We stopped at one roadside bakery and bought banana bread and other baked treats to take back to the boat with us.  We returned to the beach to see our dinghy still there (thank goodness, since we paid a dude 20 pesos to keep an eye on it).  We ate lunch at the palapa and then walked along the beach past the dozens of palapas.  Most were not open or serving food.  Apparently they're more busy in the summer months when the waves are higher and the town fills with surfers.  Fine with us!  We liked it sleepy and quiet.  The waves were calm for safe dinghy landings, especially since we had no wheels for our dinghy yet.