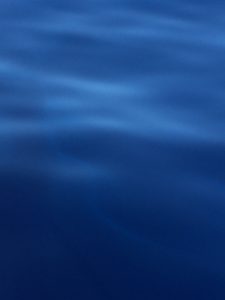 June 9 – Woke up to a little wind but not much so I suggested Dave fly the drone before the wind picked up and we got busy with preparations for departure today. He went up deck and started but then I heard a terrible whirring thud and him yelling, "No, ow, no, no, no, ow!" I peeked up, out the salon windows in time to see him struggling to grab the drone that had flown into the mast and halyards and he was desperately trying to grab and stop it. In the process he was getting his fingers macerated and chopped by the blades. I know how this feels. When in Tahuata I grabbed it mid-air and a blade hit my ring finger on my right hand. Only a small thwack but it was good enough to hurt pretty bad. It was a strange hot, stinging sensation. His thumb was bleeding and his pointer finger was completely blue and bruised. Eek gads!
Once bandaged we went into town with Camille. I was in search of whether the clinic would be open today, Saturday, and how we might be able to get a ride there. I asked around and after 3 out of 4 people said it was closed today, I opted to just walk to the store with her to purchase a few things then return. We'd be better off making for Tahiti and bringing her to a doctor there. Poor dear announced the night before she felt like she had a bladder infection, UTI. It was painful to pee and wouldn't come out much even though she had the sensation she had to go pee. Typical! I know how painful these infections can be. I gave her my over-the-counter remedies I brought just in case something like this happened. Cranberry pills and another one to ease the pain that turns your pee orange. She happily took them.
No luck with the clinic, we returned to the boat. We ate lunch while Dave went back to shore to use the WIFI at the restaurant called "Chez Lili". He ordered us fries so when he returned we supplemented our lunch, while we prepared for anchors away. We decided to head up the inside of the atoll and out the north pass figuring it would be easier than the south and something different to see.
This time I had Kyra drive the boat while Dave and Camille pulled up the anchor. I made her wear the headset and do the driving. Amazingly enough this was her first time by herself and she did great! So proud of her because I know she's nervous about it. I hope she realizes how easy it really is. Camille willingly offers all the time. She's happy to take charge.
I was a little nervous about having enough daylight to see as we navigated up the atoll but Dave assured me it was a well-marked channel and we had plenty of light. He was right of course! With no wind to speak of, the water was a flat calm. We easily slid out the north pass and eased into a route headed up around the north end of Rangiroa. Once around the top of the island, Dave set the course directly for Tahiti. We wouldn't need to change until we got there. Direct shot!
The first night was a breeze – well, actually no breeze so we motored with a bit of main sail up. The swell was even so light I hardly noticed we were out on blue water. Watching the sun set with the family is never a tiring act for me. I love these times, these moments, the beauty. After a snacking dinner, I went to sleep to get rest before my night watch.
I took over around 3:30am and then hung out reading a book because it was so calm.
June 10 – The next day it was so calm in the morning that the water was actually void of ripples and waves. I could stare straight down into the water and see the depths below. Oddly enough, I'm not sure what that meant when people would say it before, but now I know. I want to be able to describe it properly. Not sure I'll be able to do it justice.
I could see multiple colors of blue swirling around with light waves bouncing around making ribbon tunnels of blue beneath the surface. I could see bubbles drifting up and imagined a big fish was just a bit further down where I couldn't see it. Sparkles of silver intertwined around the blue ribbons. I tried as hard as I could to capture this on a camera but nothing I shot did it. I did not achieve the image my eyes saw.
Everything was quiet for a moment when I saw this. No one was awake yet. The motor roared but for some strange reason it was like the noise was blocked from my consciousness and ears. My ears only heard ribbons of blue fluttering beneath the surface of the water. I cursed my shadow that blocked my view since it was very early and the sun was still low in the sky behind me, casting a shadow as I tried to stand on deck peering into the deepest blue ocean.
Later when Dave awoke, and Kyra crawled out of her nest lazily, the ocean had already begun to change. The swells came, the clouds arrived, eventually completely darkening the sky until rain pelted down hard. The weather deteriorated throughout the day as we went along. By late afternoon we were cloaked in darkness with dark clouds all around. We marched onward straight into what looked like a storm ahead.
By evening, none of us felt very good, including Dave which is saying a lot. He usually doesn't get sick or feel so bad. He tried to sleep but the wind and waves were straight on the nose making us hobby horse most unpleasantly. He dragged himself up to the cockpit while I laid on my back on the floor next to the salon bench next to Kyra. Camille was in her room trying to hold on.
The night was no fun! When I'm seasick, I just want to die and end the misery. I feel so horrid inside. I insisted Dave rest down below instead of in the cockpit. I went up every 10 minutes checking while he rested a bit. I could just barely make out the lights of the island way off in the distance. I had to check frequently because as we got closer there is certainly more boating traffic of all kinds: pleasure yachts and commercial boats too.
By 3am, Dave got up and was in better spirits. He was making sure we'd arrive in Tahiti by 5:15am to go through the pass. I dozed off a bit before waking close to the arrival in Tahiti.
Eventually we came out from under the dark, cloudy sky. It was behind us. The stormy sea finally settled down as we made our approach to the pass. We ducked in between two large freighters or tankers. In we went and I got on the radio calling "Papeete Traffic" requesting permission to pass in front of the airport as we wound our way south to the marina and anchorage. We were cleared to pass by the runway at the airport and now I see why we must request permission. The runway literally ends at the water's edge where the channel begins. I could easily see how airplanes not quite so high could hit a tall mast such as ours. We definitely wouldn't want that.
Calling on the radio proved to be super easy. We glided past. I watched the busyness of the port to our left, while Dave spied on the AIS who else was in port (Aquijo – the biggest ketch in the world that we saw in Costa Rica, Arranui 5 that we saw in Hiva Oa and other smaller boats). We glided on through the channel while paddlers tried to keep up with us by paralleling us. I was impressed with one guy who started at the beginning of the pass and went all the way down with us and then was making his way back through the wind.
After the airport, I could see the anchorage and my mouth dropped open. I couldn't believe my eyes how many sailboats were anchored in the bay. Kyra's guess was 300 or more. I agree. We called Marina Taina but they had no space. Told us to call back tomorrow and check because maybe there would be some departures and some space would open up.
Quickly we realized all the boats on the right of the channel just inside the reef were on mooring balls. The boats on the left side of the channel, closer to land were mostly on anchor. It took us a while to find ample space to throw down anchor. The wind had picked up and the depth was about 48-63 ft. so we wanted ample chain out. We ducked into the anchorage field but found everything much too tight for our liking. So we threw it down on the edge of the channel and found a good holding in 48 feet of water. The anchor dug in nicely. The wind just kept increasing throughout the day. We dinghied in to shore in the chop. We found the marina manager, Philip. He was so nice and found us a spot, med-tied on the end of the big, main dock but said we should come the next day in the morning.   We went to Tahiti Crew and got checked in.
Back at the boat we made some calls about getting a rental car. We found "Eco Car" from an ad in a magazine offering 35 Euro per day for a small little Fiat. Seemed most economical to get a car for a day or two so we could sightsee and deposit me at the airport instead of paying for a taxi. It might be about the same amount to take a taxi as we'd pay for a rental car anyway.
We finally settled on receiving a rental car today since they couldn't meet us tomorrow morning with the free delivery to the marina. We met at 4pm just outside the Pink Coconut restaurant right at the head of the marina.
We took possession and then whizzed downtown to find the clinic for Camille. We found it, no problem and it wasn't busy at all. We were ushered in to a nurse, I guess, who listened to her problem then asked for a pee sample. She produced one. He checked her pee with a little steristrip thing and confirmed what we already knew, she was positive for a UTI. Next step is to send her to the doctor upstairs and the sample to the lab for further testing to culture it and find out exact bacteria so they can prescribe the best antibiotic. He showed us upstairs the doctor's office. We waited our turn.
While we waited me met a very nice woman and her husband. He spoke perfect English with no accent. Turns out he's American, and she's from Tahiti. They lived in San Jose and raised their kids there but then returned to live in Tahiti near her family. He was an army brat so grew up everywhere, including a stint at Tai'ohea in Nuka Hiva. He was impressed with our sailing adventures and visiting all the islands. Meanwhile inside Camille was chatting with his wife, unbeknownst to us. When his wife went in to see the doctor, Camille came out and showed us her business card saying how nice she was. She works for Air New Zealand and promised to bring us to a local pearl shop and give us guidance for shopping tomorrow if we came to her office. We settled on 11am. That sounded great! This is what our trip is all about: meeting locals and learning about their stories.
After Camille saw the doctor, he prescribed an antibiotic and cream for her finger (separate problem). We went straight to the pharmacy and paid for the prescriptions. The doctor visit was $70 and the pharmacy was less than $50. Unbelievable! I guess that's what socialized medicine means. The doctor even gave me his email to write and check back in 3 days for the results of her culture.
We popped into the Geant grocery store right next to the clinic and all three of us were in awe of all the fresh produce and choices like a regular grocery store. We haven't seen this since Costa Rica. Oh, it all was so lovely.
I knew Kyra was back at the boat out in the anchorage and I didn't want to leave her any longer than necessary, so I had to force myself and them to quickly make our way through the store and not buy everything, even though we wanted to. We did buy delicious stinky French cheese and wine. Ah, heaven! We then rushed back to the boat. It was dark already. Kyra was a happy clam though playing with her Barbie dolls. She missed us and wondered why it took so long but she was ok. I admire her ability to play so contentedly by herself for so long. This is a good thing and a special skill.