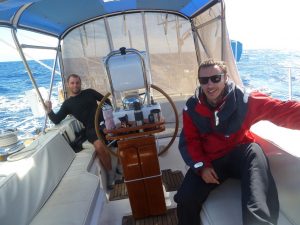 October 18 –  Following three relatively peaceful days at Minerva Reef the crew was eager to get on our way again, but we had to get back into the passage-making groove. While the wind had been steadily dropping, waves outside the reef were in the 3.0 – 3.5 meter range and somewhat confused with occasional larger whitecaps slapping the side of the boat and sending spray across the deck and cockpit. Yesterday, everyone was feeling the renewed effects of the sea to some extent. Today one and all of our hearty crew are fortunately feeling much better. We're bundling up more as the temperature has dropped to 60F/15C today.
While departing from the reef, we closed down most of the hatches but left the galley portholes on the downwind side open for a little ventilation. That proved to be a mistake when a wave on the windward (port) side drove the bow down, scooped a bunch of green water, and sent a river of water along the starboard deck and then into the galley. We quickly locked down those portholes and jumped into action to mop up the salty mess. Not terribly fun with moderately large wave swells kicking the boat (and our stomachs) around. Think about trying to read a book whilst inside of a tumbling washing machine. Alas, we got it done!
With 18-22 kts of wind and the sea state steadily calming throughout the day, we were able to keep our speed up over 8.0 kts and pass up several of the smaller boats that had departed Minerva Reef with us. We've been tracking along with our friends the McGlynn's on Counting Stars at about 2 nm for much of the passage. AIS target tracking and communications over VHF have been intermittent and dodgy between us, so we are both planning to have our antennas and radios checked out when we get to New Zealand.
Our distance travelled yesterday was a respectable 192 nm, among one of our fastest days. (The best 24-hour distance to date remains 198 nm on our earlier Marquesas passage.) Not bad! We have 600 nm remaining to Opua, NZ and we expect to arrive early Monday morning, if not earlier. This will be Sunday afternoon for our friends following from the US. We'll continue to spend our time talking, reading, eating, sleeping, and of course, continually trimming our sails to optimize speed.
The crew is in a great mood this morning as we sail onward under beautiful blue skies and calmer seas.
Your plucky crew,
Dave, Kevin, Nick, John, and Mike