November 6 – Waking to gentle rocking of the boat, on anchor, with a lovely breeze blowing is so blissful! Slept solidly for 7 hours. Ahhhh! Really needed it, since the night before was way too lumpy while on our passage from Bahia de Tortugas to Bahia Santa Maria. The waves were jerking us about, making the boat lurch and leap, the sail luffing on and off, not to mention watch schedules.
I am pinching myself right now. Am I really here? Are we really making this happen? Are we really on an extended trip with the whole family? Maybe we're just on vacation? Nope! There are chores to be done, school and learning to do and boat projects to keep things in order.  The list is long.  The joke is maybe we'll be ready for this trip (complete the supposed pre-departure projects) by the time we're ready to return to Seattle area.
Hiking
Beach Party Hanging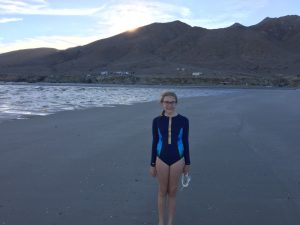 Beach Combing and Swimming
In Bahia Santa Maria, we enjoyed some hiking, the party, a celestial navigation with the sextant workshop, and of course beach time.