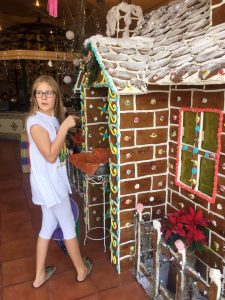 December 23 – We arrived in Barra de Navidad at the marina and discovered it really is Christmas.  Up until now, it hasn't felt much like Christmas.  The whole place is decorated so beautifully, and I even ran into a giant, life-size gingerbread house made of real gingerbread.  It's taller than me so I could actually go inside but it's roped off, just for decoration but they do have a bucket of freshly made and decorated gingerbread cookies in a tub in front of it for the taking.  I knew the girls would like it so I sent them up to investigate and find it.  They too loved it.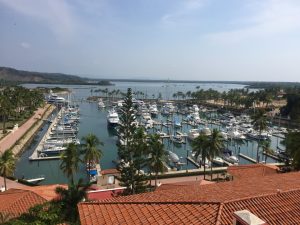 The resort is built into the steep mountainside so it rises high above the water, marina and lagoon with the most amazing views.  We even found a baby grand piano in the bar room, off the lobby that maybe they can play to get some practice in.  It's been almost 3 months since their fingers have danced along a real piano keyboard.   Overall, this place feels 5-star with many amenities and a unique pool with water slides.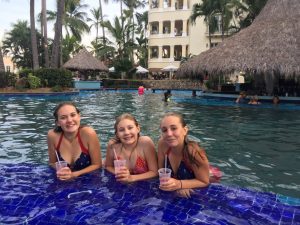 The girls are anxious to go swimming in it.  This is a real treat for the holidays and very relaxing.  I'm so glad we came here and especially happy our friends on Sassafrass joined us here too.  We met up in Tenacatita and then both came to Barra.  Camille is so happy to spend time with her friend Violet.