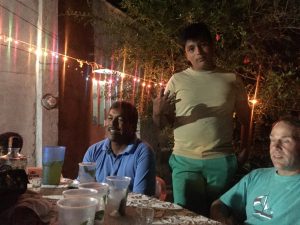 December 27 – Finding local families that welcome you into their home and feed you isn't an every day occurrence.  We ate at a local restaurant in Colimilla (next door to the marina) one night and the waitress, Rosa, invited us to her house for dinner with her family.  She was born and raised in Colimilla, has 2 kids ages 16 and 19, a boy and girl.  Her husband has many siblings and came to Colimilla when he was 5 years old.  Their daughter is attending university in Colima studying biochemistry.  She's quite smart and seems the most worldly of them.  Her brother, Diego, is younger and attends a prep school in Barra Navidad so he has to take the water taxi (panga) across each day.  They are both on holiday from school enjoying time at home.  Rosa is very sweet, has a big heart and loves to sing karaoke and dance.  She had a big boom box for music and microphone for singing.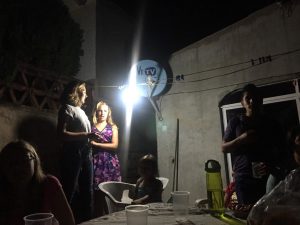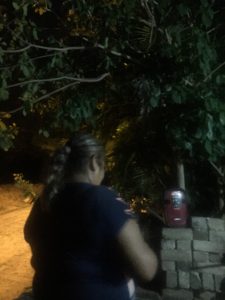 Our Spanish may improve if we hang out around locals trying desperately to speak Spanish.  Mine is so bad.  I used google translate and so did Diego then we could communicate with each other.  He seems to know a little English but I believe he's in the same situation as me:  he can understand a bit but cannot speak.
Rosa's husband, Vicente, was very welcoming too.  He doesn't speak any English.  They are such a happy and humble family, very proud of their home sitting up high on the hill above the lagoon in Colimilla.  They served us shrimp fajitas and molcajete.  Dave brought mojito makings and Burgandy brought drinks and cookies.  We all had a fabulous time eating, singing and chatting.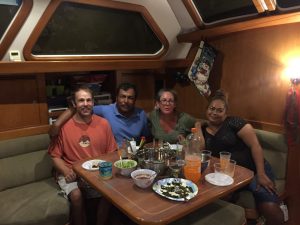 At the end of the evening we invited them to our boats.  She said 7pm but they arrived around 7:30pm tonight.  We were totally unsure how many would come.  She came with her husband, son, a friend named Laura, Laura's daughter Solange, and a neighbor girl.  We asked where her daughter Manse was, but they said she was tired from studying all day.  We fed them fajitas with arrechera (yummy tenderloin meat grilled to perfection).  It was a very fun evening all around with more Spanish practiced.